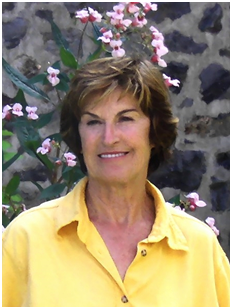 The completion of a painting inspires me to start another one.
Gisèle Comtois
Over time an artist develops by experimenting with different approaches, media, techniques as well as ideas and themes. Experience and sagacity allows the artist to weave together these disparate threads into a unifying vision. After more than 40 years of exploration and perfecting her art, Gisèle Comtois brings forth to us paintings of beautiful sophistication. The works become the delightful focus of any room, not by shocking or jolting the viewer, but by enveloping him or her with a serene and vibrant energy. Building on the essential foundation of a strong composition Mme Comtois amplifies the effect with her shimmering palate. Only a very accomplished artist can deploy such bold strokes of colour, weighing the value of each hue, each shade, all the while maintaining the balance and harmony of the composition. This is a very difficult task, indeed, yet with Ms. Comtois expert hands it all seems so simple, so natural.


Born in St. Marc-sur-Richelieu, Quebec, Gisele Comtois now lives in Burlington, Ontario. She has studied various aspects of fine arts at the Musee de Beaux Arts in Montreal, QC, Cambrian College in Sudbury, McMaster University in Hamilton and Sheridan College in Oakville. Ms. Comtois has taught art at Sheridan College in Oakville, Ecole Ste-Marie in Oakville and Ecole St-Phillipe in Burlington. Ms. Comtois' work has also been the subject of academic study at Sheridan College.
The artist has taken countless sketching trips exploring the Gaspe coast, Charlevois County, the Laurentians, the Eastern Township in Quebec, the Maritimes, Northern Ontario, France, Italy, India, Egypt and South America. Gisèle Comtois has had 32 solo exhibitions to her credit and her work is in the art collection of 80 corporations worldwide.

"The important factor in my art is not only the pictorial result; it is an art at once sentimental and elusive, softly spiritual without preaching, close to us and yet remote, and full of need to continue human communication."

Gisèle Comtois is an internationally acclaimed Burlington, Ontario artist represented in collections world wide. Her work is exhibited in several prestigious Canadian galleries including King Street Gallery in Niagara on the Lake, Earls Court Gallery in Hamilton, Burlington Art Gallery in Burlington, Harbour Gallery of Mississauga, Ingram Gallery of Toronto and Canadian Heritage Art Company of Kleinburg

The feeling of space in my painting is the result of looking at the land formation from above. As an enthusiastic skier, I have studied the strength of the mountains, observed the changing mood of the water, and I have felt the warmth of the villages and their people. In a work of art, one should visualize the energy of the artist through the strong dynamic structure of the composition.
Greeting Card Cover for the Toronto Hospital for Sick Children
Greeting Card Cover for Cornerstone #52 Foundation
Selected by the Canadian Broadcasting Corporation for the program "Espace Libre" (a full length segment in the nationally broadcast "Espace Libre" art magazine of the CBC French language television network)
Chosen to be included in the new art book "200 Visions Nouvelles" by Louis Bruens


Book Cover – "Basic Sociology" Text Book by Prentice-Hall Publisher

Click here to view or download a feature article about Gisèle, entitled "Portrait of a Perfectionist".

Canadian Select Homes Magazine

Conseil des Arts de l'Ontario
Visual Arts Grant, Ontario
"Best in Show" – Central Ontario Art Association
Selected Corporate Collections
Agilent Tech.
Agra Incorporated
Alfield Industry Ltd.
Allen and Phelan Law Firm
American Appraisal
Ariel Miller Designs
Atlantic World Export-Import
Co. Ltd.
Banco Bradesco, Sao Paulo,
Brazil
Bank of Montreal
BCE Emergis
BMD Nesbitt-Burns
BRC Business Enterprises
C.C. Caisse
Canacord Corporation
Cantox Health Sciences
Carolyn Henderson (Burlington)
Charlton Medical
City of Mississauga
Clinique Capillaire Inc.
Crossford Consulting
Deacon Barclay's de Zoete Webb Ltd.
Deloitte & Touche
Diversey Inc.
Dofasco Centre for the Arts,
Hamilton
Hamilton Law Society
Dynatech Ltd.
Encon
Equion Group
Erindale Chiropractic Clinic
First Service Corporation
G. Edick & Sons
Granary Enterprises Inc.
Grant Hood
Hamilton Law Society
Heenan Blaikie
Hood Grand (First Media)
Jackson & Barnard
Japanese Trade Commissioner
Jeffrey Robinson Construction
Inc.
Marathon Road Maintenance
Equipment
Marlene Kretcham Holdings
Melhouse Group
Merrill Lynch
MHPM Project Management
Monsanto Canada Incorporated
Montreal Trust
OPSEU Pension Fund
Pfizer Global Pharmaceutical
Pharmacia-Upjohn
Procor Limited
Provident Co.
Seabury & Smith
Senate of Canada
Shared Health Network
Dr. Robert Summers Gill
Stephanie Smith Interiors
Sudbury Board of Education
Suncor Inc.
Terra Nova Insurance
Tom Thomson Memorial Fine
Arts Museum
Toronto Rosedale Tennis Club
Udum Provident
Ventra Group
Versant Corp.
Volkswagen – Sao Paulo, Brazil
Earls Court Gallery, Hamilton
King Street Gallery, Niagara on the Lake
Graham Gallery, Toronto
Win Henstock Gallery, Oakville
Harbour Gallery, Mississauga
Diana Paul Gallery, Calgary, AB
Heritage Gallery, Kleinberg
Ciparis/Lennox Gallery, Toronto
Gallery 7, Toronto
Schneider & Associates Gallery Ltd., Toronto
Christin Gallery, Toronto
Lourie Gallery, Toronto
Art Gallery of Hamilton, Hamilton
Scrimshaw Gallery, Oakville
Art Gallery of Burlington, Burlington
Bigue-Osler Galleries, Toronto
Gustafson Galleries, Toronto
Damkjar & Burton Gallery, Hamilton
Alice Peck Gallery, Burlington
The Art Gallery, Sudbury
The Tom Thomson Memorial Gallery, Owen Sound
Galerie Place Ville Marie, Montreal
Stuart Hall, Pointe Claire
Centre d'art Maisonneuve, Montreal
Selected Group Exhibitions
Harbour Gallery, Mississauga
Art Gallery of Hamilton, Hamilton
Heritage Gallery, Kleinberg
Christin Gallery, Toronto
Scrimshaw Gallery, Toronto
Gustafson Galleries, Toronto
Graham Gallery, Toronto
Diana Paul, Calgary
McMaster University, Hamilton
Galerie d'art centre francophone, Toronto
Bigue-Osler, Toronto
Alice Peck Gallery, Burlington
Art Gallery of Burlington, Burlington
Janrielle Gallery, Niagara Falls
Burlington Central Library, Burlington
King Street Gallery, Niagara-on-the-Lake
Laurentian University, Sudbury
The Artisan Gallery, Sudbury
Rothman Centre, Sudbury
The Tom Thomson Memorial Gallery, Owen Sound
Gallerie Place Ville Marie, Montreal
Earl's Court Gallery, Hamilton